With help from the Manufacturing Growth Fund, construction technology provider C-Probe will be fully automated in 2021, enabling it to operate at 10 times its current capacity; the support has also helped create one additional job.
North West manufacturer C-Probe is set to grow 10-fold and enter new markets thanks to its cutting-edge construction resilience technology.
The St Helens-based construction technology provider is a specialist in both low carbon alternative cements and internet-enabled corrosion management systems. The company has worked primarily in the restoration market, but is planning to enter the new build sector as it ramps up production.
In 2020, the company received support from the Manufacturing Growth Fund, which offers grant funding to increase the productivity of small and medium manufacturing enterprises in the North West of England.
Founder and director Graeme Jones (pictured) talks about how C-Probe has innovated, and kept stimulated.
"We want to supply products that contribute resilience to a structure for its whole life"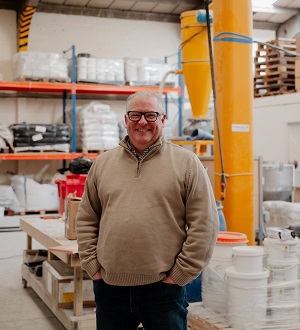 I would like to say we had a eureka moment when it came to developing an alternative cement product. In fact, we stumbled across the material when we started working on an R&D collaboration with Sheffield Hallam University to establish an alkali-activated cementitious material – AACM geopolymers.
This is an alternative to cement and is used for restoration of buildings and to prevent future corrosion – and in doing so is adding low carbon and 'smart' mortars to the UK construction industry.
It's a completely unique material and offers much more than repair, as the product can be monitored using our network management system, the Achilles Suite of Structural Healthcare Systems.
There are other people in the market that do low carbon cements, but they don't use it the way we do, and nobody then adds monitoring and online management and design solutions.
Our business has mainly been in the restoration field and we've worked on some amazing buildings including Arkwright House in Manchester, but as we're getting busier and we want to move into new markets we needed to ramp up production, completely upgrade our plant and automate our processes.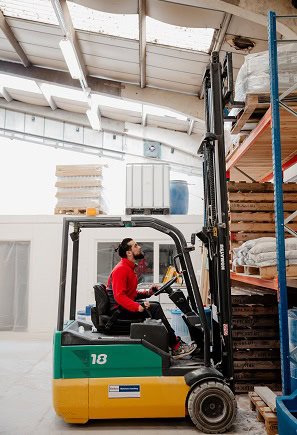 You need all the help you can get from a funding point of view
The plant in St Helens was initially set up as a manual process. We had to physically weigh the materials which are then placed into a blender and then we bag it up.
That is a low carbon process but as we're entering into a growth period, we can't do it all manually.
We needed to bring in a weighing and bar-coding operation to streamline the production of raw materials, that will then feed into the main production capacity and improve consistency and quality of the final product.
The new weighing machine will also allow for real time data drive integration into the accounting systems managing stock levels and costs of the end product.
By taking out the manual work, it also frees up our team to work effectively in other areas of the business.
As we are a micro SME trying to do R&D in a huge construction market that has some big players, you need all the help you can get from a funding point of view.
I met the Manufacturing Growth Fund's Manufacturing Advisor Phil Anders when we opened our plant in 2015. He's a terrific individual and has helped us enormously both from the product side and equipment support, but also with our website – as well as providing support for the lean manufacturing value stream mapping service.
This has been vital support and has helped us to keep the business moving as we enter our next stage of growth.
Phil understands what we are trying to achieve here. His team have been quick in helping us to make decisions and we've not had any frustrations.
We're currently working with Liverpool City Region's Future Innovation Fund to develop to production readiness a modularised product using the same materials, and the support is helping to keep the business moving.
In addition, we are also coming to the end of our work with Made Smarter, which is helping us to embed digital tools and technology which will fully digitise our equipment, improve the user experience in efficiency of product handling and health & safety.
Technology creates more business which creates more jobs
Thanks to the ongoing digital transformation support, we will be fully automated in 2021, which will give us the capacity to expand significantly. We'll be able to operate at 10 times the current capacity while also upskilling our staff.
Innovation is key for us and we like to think we are showing other people how to innovate, whether it's through our monitoring and management systems or the alkali-activated cementitious products.
This means we are always looking at how we can improve, and innovation is what keeps you going and stimulated. As the market opens to technology and technology is done efficiently it creates more business, and more business creates more people.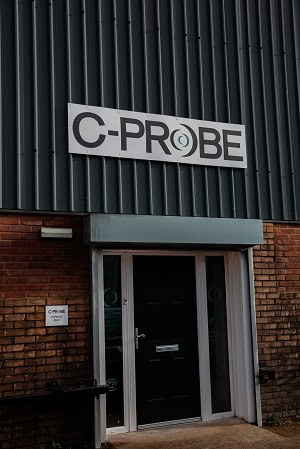 We have gone from a team of five to seven, with plans for more people to join, and we're excited about the future. The new build market will create plenty of opportunities and we're also keen to grow our presence globally.
We have recently been notified that we have won a multi-million pound deal for a project in New York. Due to COVID, it's taking a bit longer to get off the ground, but it will be a great springboard into the States and allow us to recruit more people.
To find out more about C-Probe visit c-probe.co.uk