This month, Growth Platform hosted the second event in the #AmbitiousLCR series, a campaign to inspire and bring together the most ambitious businesses as part of the LCR High Growth Programme, to collaborate, be inspired, and harness growth ambition.
The Sustainability Roundtable brought together a small group of business leaders from around the Liverpool City Region to discuss the challenges and opportunities presented in the race to Net Zero.
Event host and CEO & Founder of Hyperion Cleantech Group, David Hunt, kicked off the discussion by touching on how the UK is yet to properly take advantage of embedding sustainability practice:
"80% of my work is outside of the UK. There is huge opportunity here for businesses working in this sector – last year, €14 billion was invested in clean tech in the EU."
Key Panellist Takeaways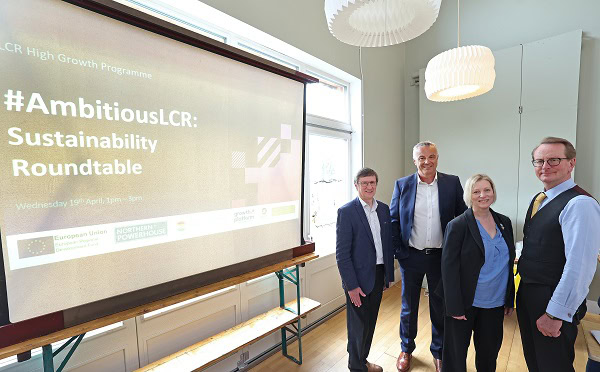 Principal Environmental Officer at LCR Combined Authority, Rachel Waggett, offered some key insights from a local government perspective, stating that the Combined Authority are "looking to be inspired by others to set this agenda; we're happy for you to be the pathfinders and for us to follow." She also highlighted that through their research, it was found that 82% of people felt action needed to be taken to reduce carbon, but only 46% said they knew what action to take.
David Millar, Managing Director of local business Heap & Partners, spoke to the room on how his business continually reviews their impact on the environment, saying: "We're 157 years old, and therefore proof that you can teach an old dog new tricks".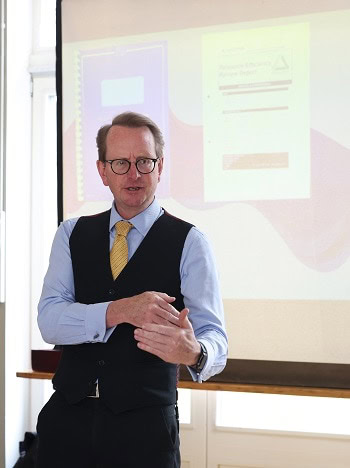 David discussed how over the past 20 years, Heap & Partners have:
Carried out independent reports to measure their carbon footprint, noting that "every time we lowered our carbon footprint, it would save us money"
Changed their heaters, light bulbs, and resources for eco-friendly options and installed almost 300 solar panels
Implemented their pioneering People, Planet, Profit programme, which also includes investing in staff, giving them paid time off to volunteer or fundraise for charities, which is match funded by the business
Planted over 10,000 trees to offset their carbon footprint
David's main takeaway was the need to keep revisiting policy as technology changes and becomes more accessible, as well as setting aside time to really look at becoming more sustainable: "People are busy doing their day jobs, but if they realise they can save money, they would be more likely to take action".
Finally, Dr Andy Pickard, project manager of Eco-I NW at Lancaster University, discussed the importance of collaboration as the UK strives to reach Net Zero by 2050: "This isn't a competition, it's a seriously important thing we are doing, and that's why we need to work together and pool expertise".
He also stated that businesses investing in cleantech are "growing four times faster than others", and the North West has the skills, the industry and the opportunity to "make Net Zero happen".
The Eco-I North West Net Zeros Essentials Programme has been designed for SME leaders interested in connecting with peers, academic expertise and industry partners to address the opportunities and challenges posed by the Net Zero Carbon agenda.
Other key points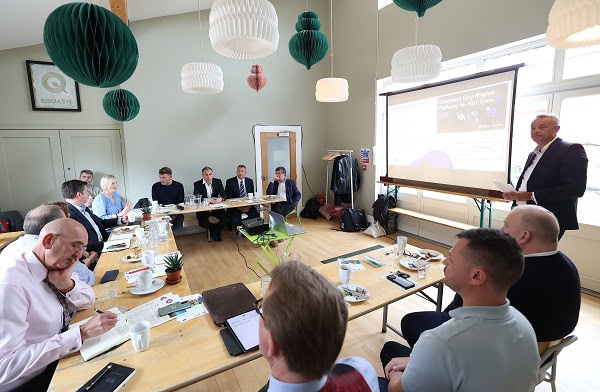 A variety of other points were raised in the general discussion, both from businesses who operate in the sustainability space, and those who are looking to make changes within their businesses:
Lack of infrastructure to properly step up renewable energy, for example with the National Grid and availability of charging ports for electric vehicles
Skill shortage: it was noted by one business that they are 'turning work away as we don't have the staff or ability to build capacity from a local workforce', and they are now trying to work with the City of Liverpool College to encourage electrician students to switch their focus to sustainability
Use of industry terminology is often a barrier to many businesses who are starting out
Showing examples of best practice around the City Region can make these changes feel more attainable
Developing a supplier list or directory of those offering services to support businesses in reaching Net Zero
What next?
One thing was certain from this event: there is a definite appetite from businesses to become more sustainable, both for the planet and for profit.
Although the LCR High Growth Programme is ending in June, there is still extensive support available at Growth Platform for businesses looking to grow with sustainability in mind. Visit our Local Growth Hub service to find out more.
Keep an eye of for the third and final event in the #AmbitiousLCR series, where we'll be looking back at the successes of the LCR High Growth Programme and looking forward to the future.