As we hit week 12 of lockdown it's about time, we hit the pause button and reflect on everything that's happened so incredibly quickly over the past few months.
I'm happy to say that I've finally managed to create a proper work space at home that has really helped me to switch off at the end of each day and I'm just about getting to grips with the change of pace and priorities that COVID-19 has brought to this role.
I don't think anyone could ever have been prepared for the uncertainty and devastation that we've all faced so far this year but it's clear to see that out of a crisis comes opportunity – especially in the Health and Life Sciences sector.
Supporting businesses in the city region
From day one of this crisis Growth Platform assembled their willing troops and we worked to support businesses across the Liverpool City Region as they were dealt the harsh reality that COVID-19 was creating – without money quickly, they just couldn't survive. We supported our businesses to navigate the funding from government and helped them with their resilience planning by creating business resilience programmes that supported local need. You can find out more about the different programmes and the criteria for each here.
We fast forward to the here and now and we've moved to the next phase of supporting our businesses to get back to work and figuring out what this 'new norm' that everyone is talking about really looks like.
For a lot of businesses within this sector, work didn't stop. Our frontline health and care workers faced challenges they could never have really imagined, and our local universities deployed thousands of final year students on to the front line supporting them through this incredible transition as they helped to play a key part in the fight against this virus. I'd personally like to say a huge thank you to them all and for the work they continue to do within the City Region.
We were overwhelmed with the offers we received when we put out a call for PPE and the response we had says everything about the comradery within the City Region. Business large and small donated equipment, universities and schools donated equipment (some even turned their hand to making it!) and it would seem, for now at least, the desperate need for PPE has balanced out. I'm now working with colleagues within Growth Platform and the Innovation Agency, the Cheshire and Merseyside Procurement Hub and the Merseyside Resilience Forum to see if we can support some of our local businesses to manufacture PPE. The Innovation Agency continue to work to support the health and social care system through their recovery phase, triaging the brilliant innovations that are coming in from across the North West.
Innovation to support the COVID-19 effort
With the many funding calls and opportunities that have been presented to the sector, our Liverpool City Region businesses stepped up and showed up with their innovations to support the COVID-19 effort. There was amazing work done by Innovate UK and the turnaround times of their calls was unprecedented which really helped businesses to secure much needed funding in these tough times. Local business Chanua Health Ltd were also successful to the NHSX TechForce19 call with their NeuroLove offer which is a brilliant support to all in these challenging times.
"Here in the City Region we have immense capabilities and expertise in this space and we're continuing to showcase the importance of our assets nationally and globally in fighting this pandemic."
As we all know, vaccine development has been the major hot topic both nationally and internationally as the race to a COVID-19 vaccine is underway. Here in the City Region we have immense capabilities and expertise in this space and we're continuing to showcase the importance of our assets nationally and globally in fighting this pandemic. The Liverpool School of Tropical Medicine are working in partnership with the University of Oxford to support Phase III trials of their vaccine, CEIDR have been working to support the research within the University of Liverpool and Liverpool School of Tropical Medicine and have funded several key projects in the COVID-19 space.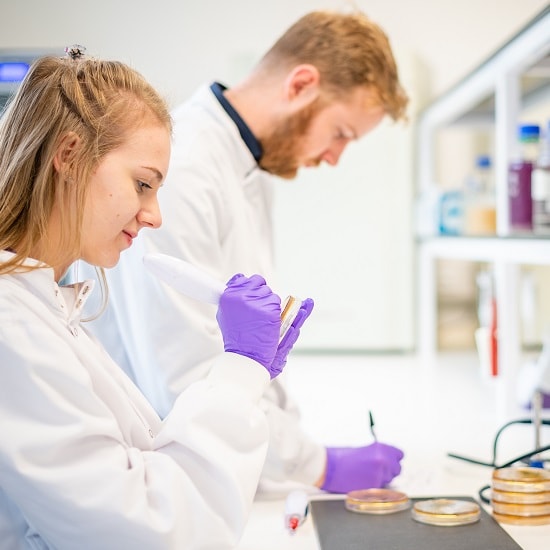 Organisations large and small are coming together within the City Region to work together to support COVID-19 efforts – Arcis Biotechnology & Perfectus Biomed at STFC Daresbury are a great example of this. Add into this the capabilities of The Hartree Centre also on the Daresbury campus who have been working on computational drug discovery and we really do have the full package here in the City Region!
Continued Investment in the city region
Whilst all of this was taking place, The Knowledge Quarter secured investment through Sciontec Liverpool who made Bruntwood SciTech a 25% shareholder in the company and the state of the art new Clatterbridge Cancer Centre is set to open at the end of June 2020. The Spine (or Giraffe as it's now known locally!) is nearing completion adding to the buzz and excitement in this area of the City Region with the Royal College of Physicians moving into this space and making it their Northern office.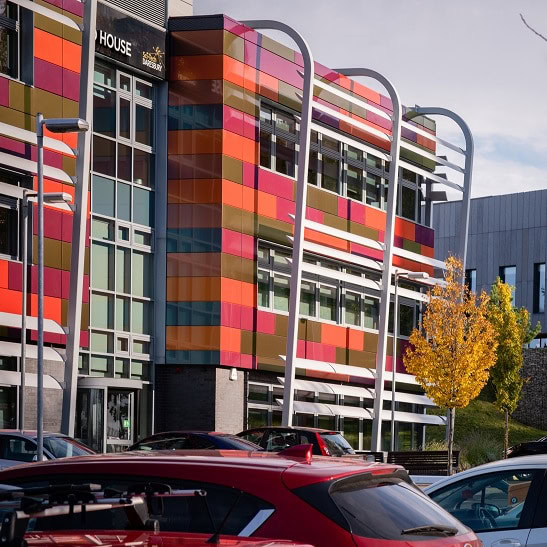 Finally, we celebrated the first birthday of our HealthTec Cluster that runs out of the STFC Daresbury campus which is a unique offering for businesses to connect, network and find support to help them along to the next stage of their journey. Not only is a great asset for businesses, it also pulls together a strategic group that spans across the North West (and further!) that is exploring ways to showcase the North as a whole and work together around the 'levelling up agenda' of central government. There are some really exciting opportunities that are being explored here!
Last thoughts…
It's safe to say 2020 has been a year that we'll never forget (it's only June…) and we've been a part of something that will live on in the history books. I'm amazed and humbled by the resilience and fight of our local businesses and their willingness to not give up and not be defeated. I know for some it may not seem this way, but we have a lot to look forward to both personally – being able to see friends and family members again hopefully soon, and professionally – with the opportunities that this crisis presents. I'm so proud to be a part of the health and life sciences community here in Liverpool City Region and I'll continue to support and fight right alongside our businesses, no matter how long it takes.